References
Current
dwerft

Interface Research & Development for Yovisto GmbH
FrameTrail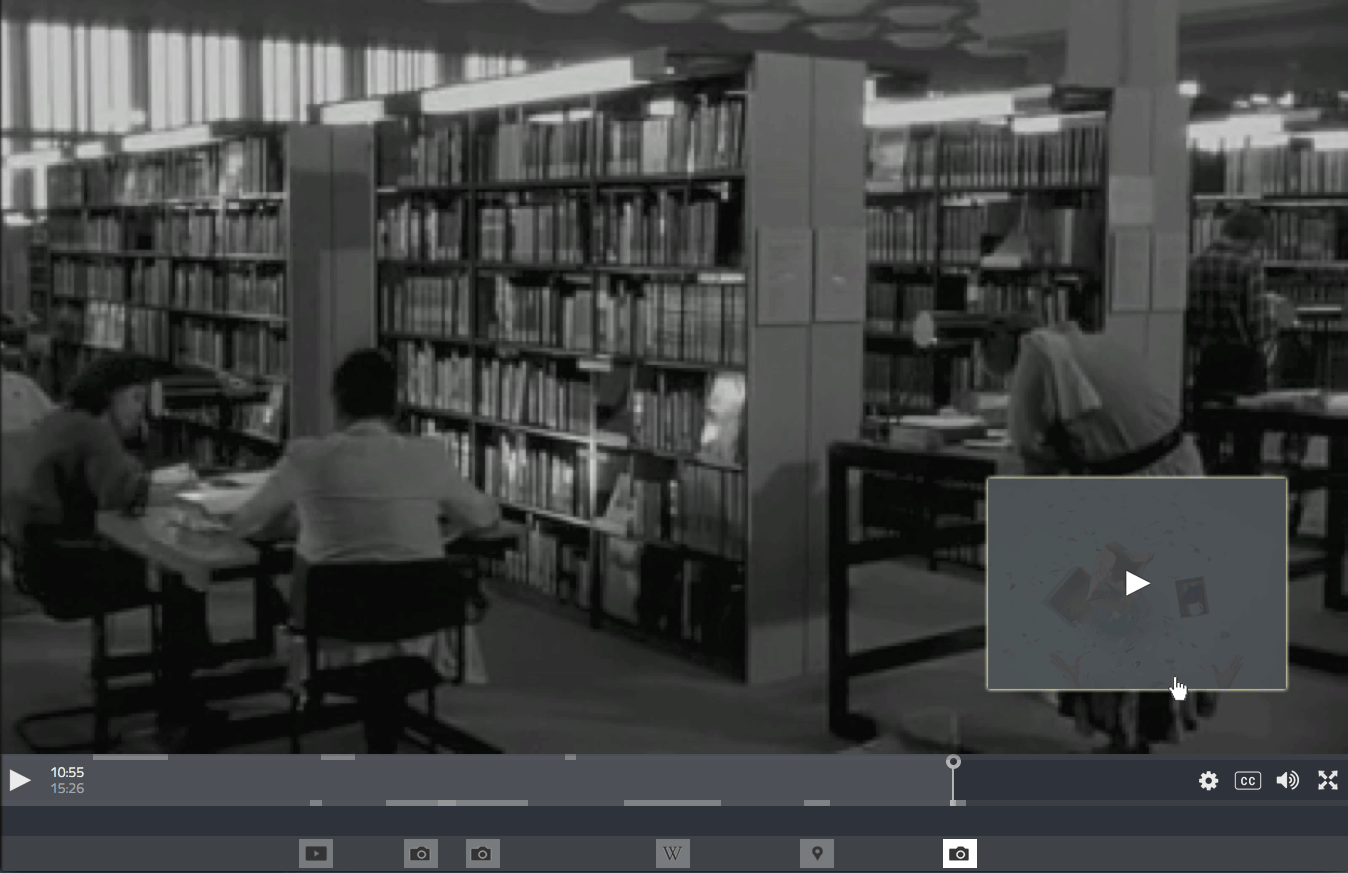 Open Hypervideo Environment
Finished
refer
Online-Recommendation System
View Project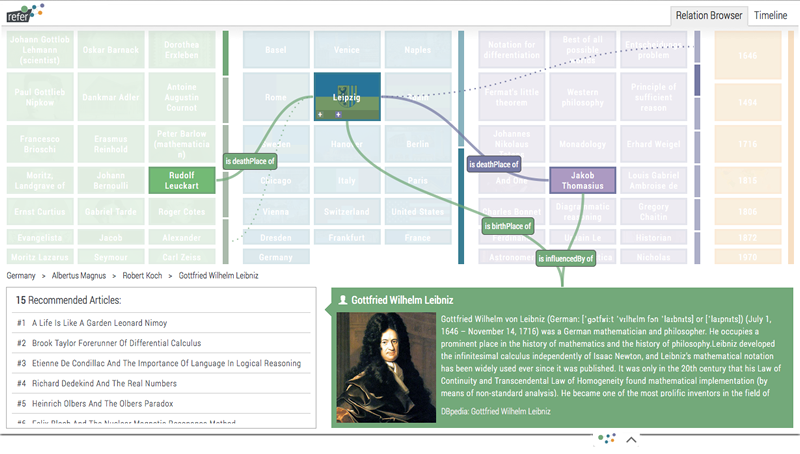 VHB Online Course
eLearning Environment
View Project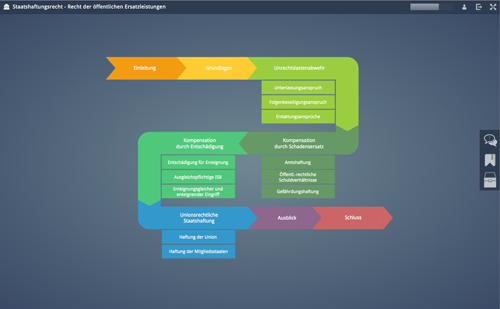 Superglue
Distributed Web Authoring and Storage
View Project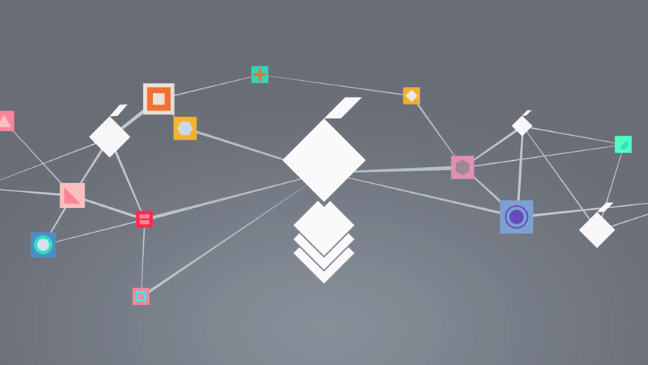 TIB AV-Portal
Semantic Video Search Engine
View Project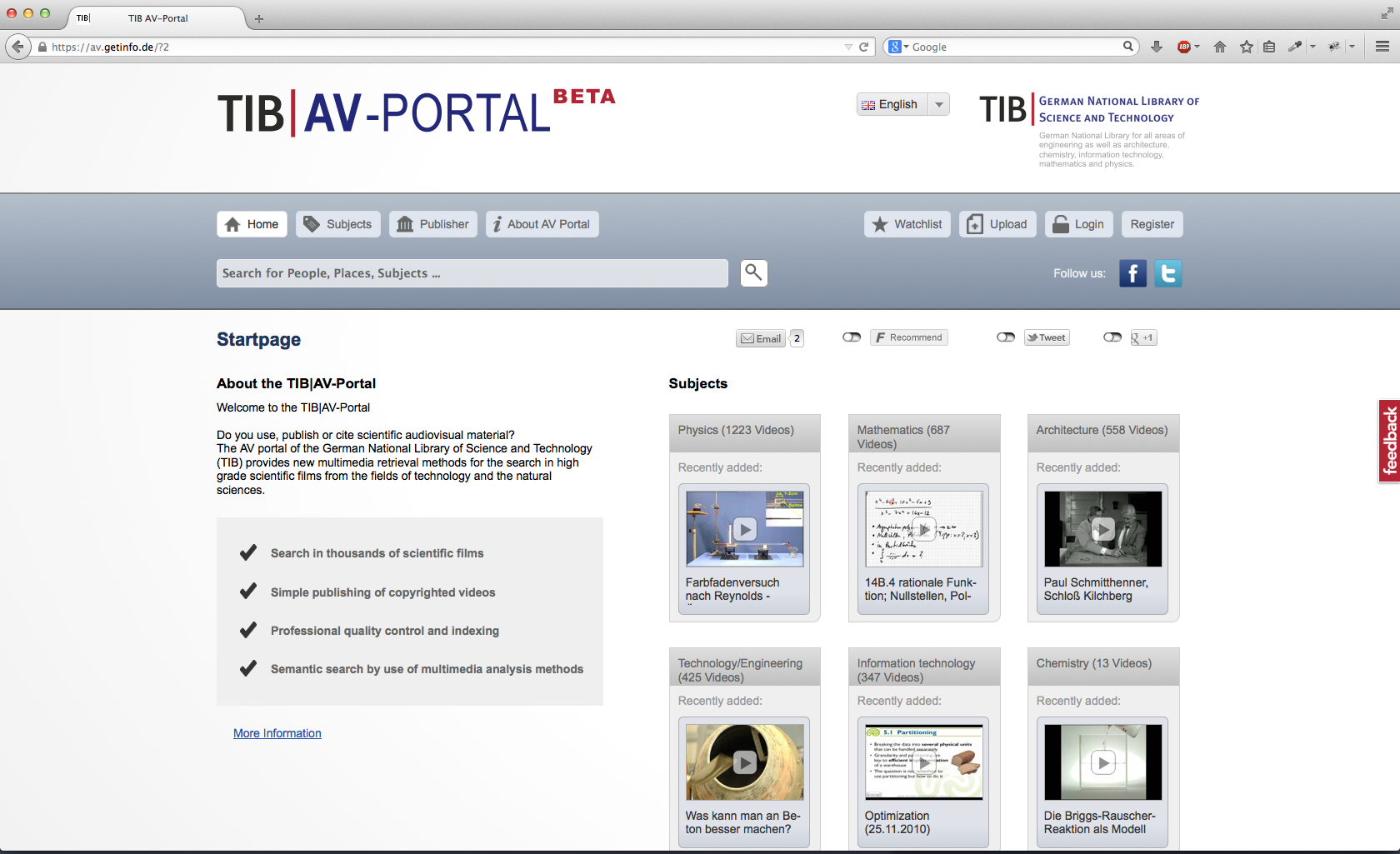 Open Hypervideo
Use Case: Flipped Classroom
View Project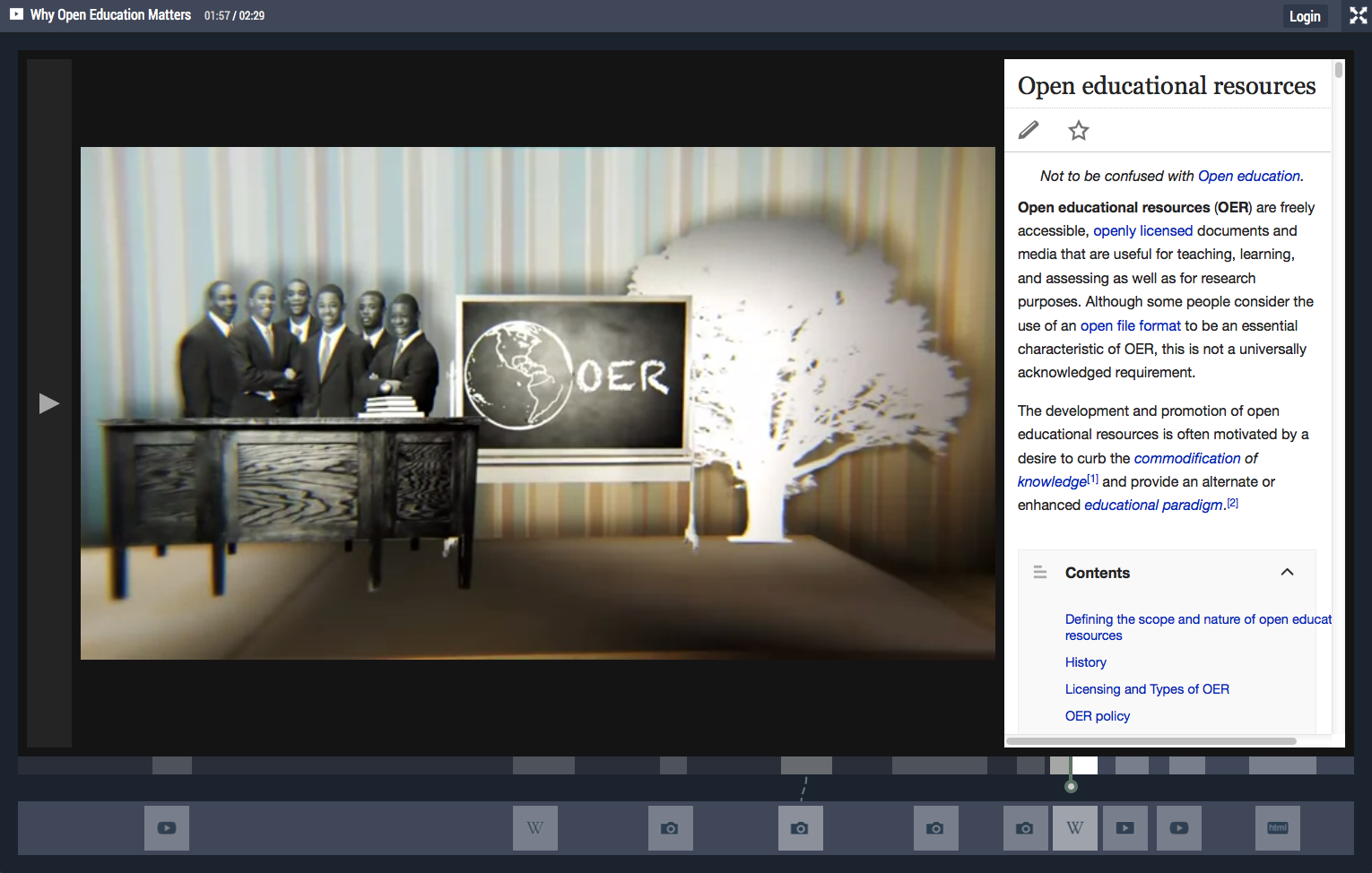 Technical Demonstrators
CeBIT 2013
View Project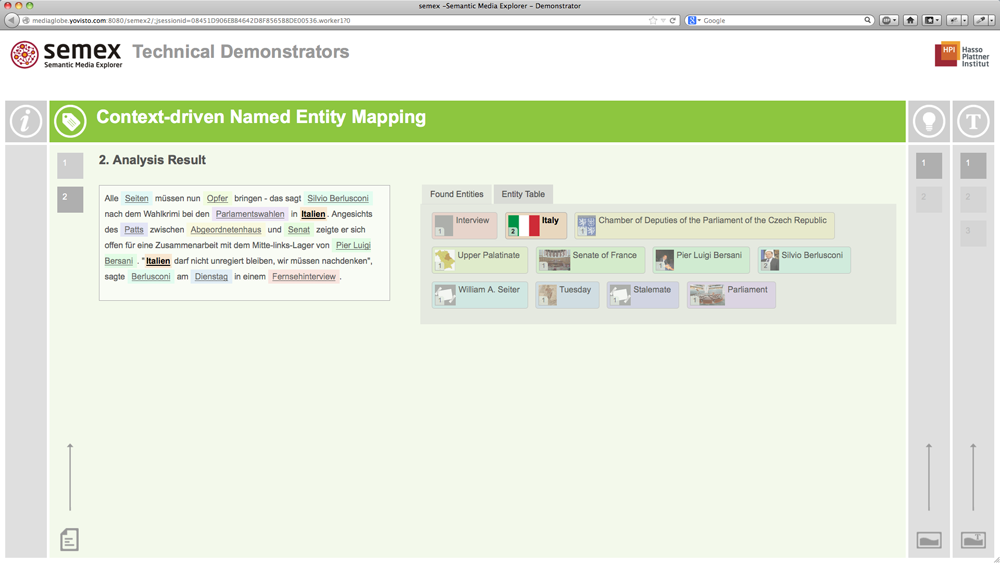 Open Hypervideo
Use Case: Science Communication
View Project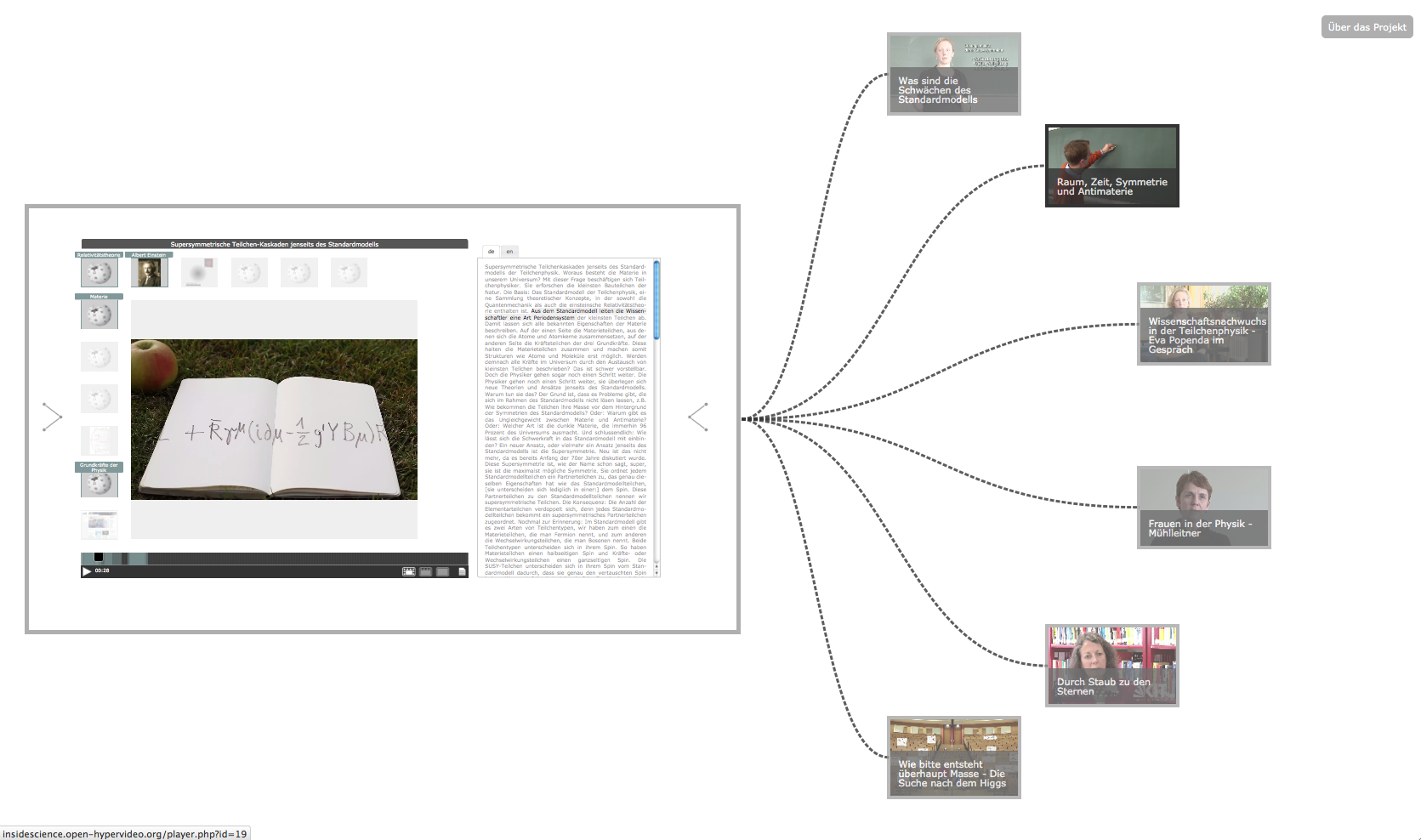 Open Hypervideo
Use Case: Document Access
View Project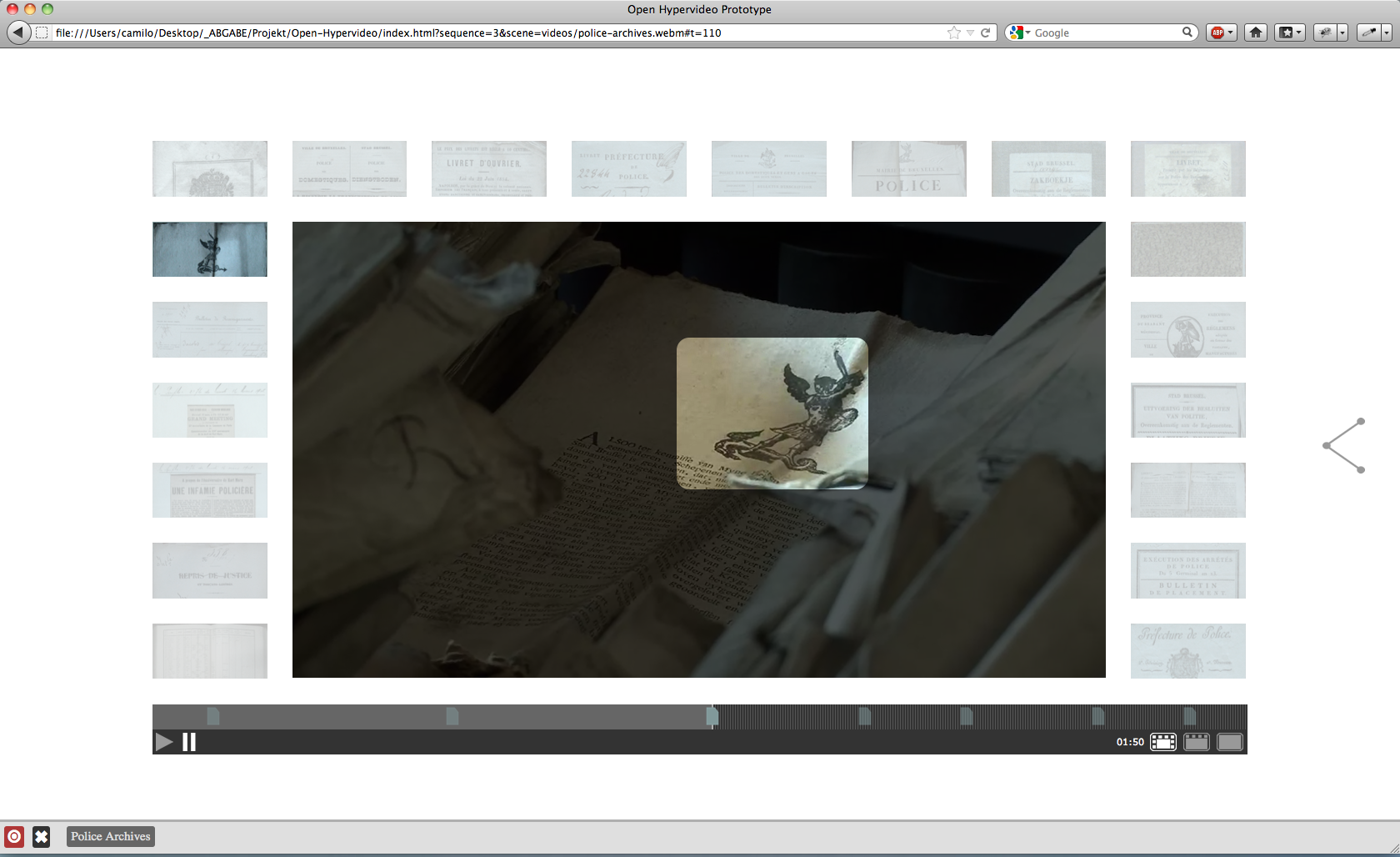 Semantic Media Explorer
Project mediaglobe - the digital archive
View Project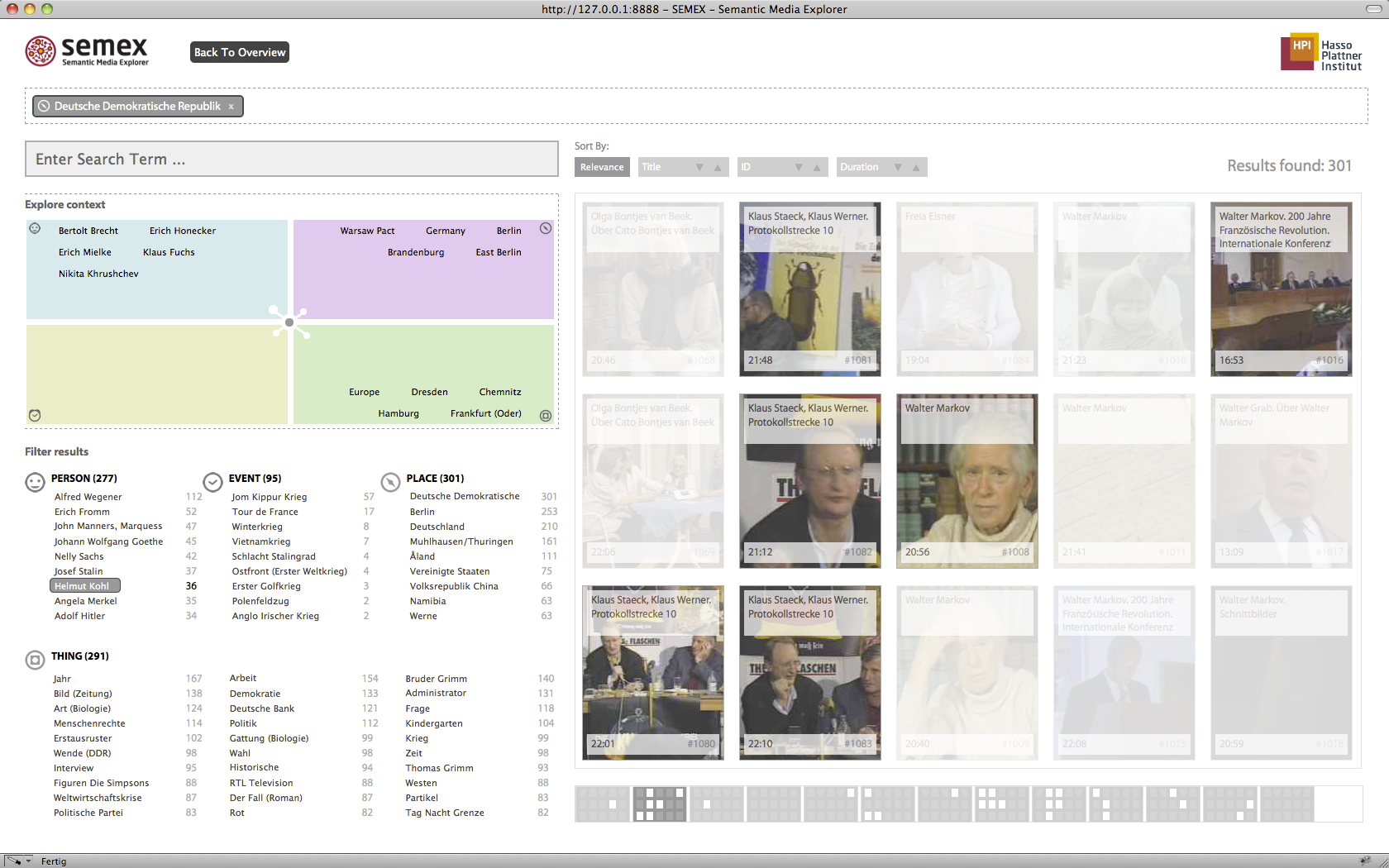 Video-based Archive
"remediate" Research Project
View Project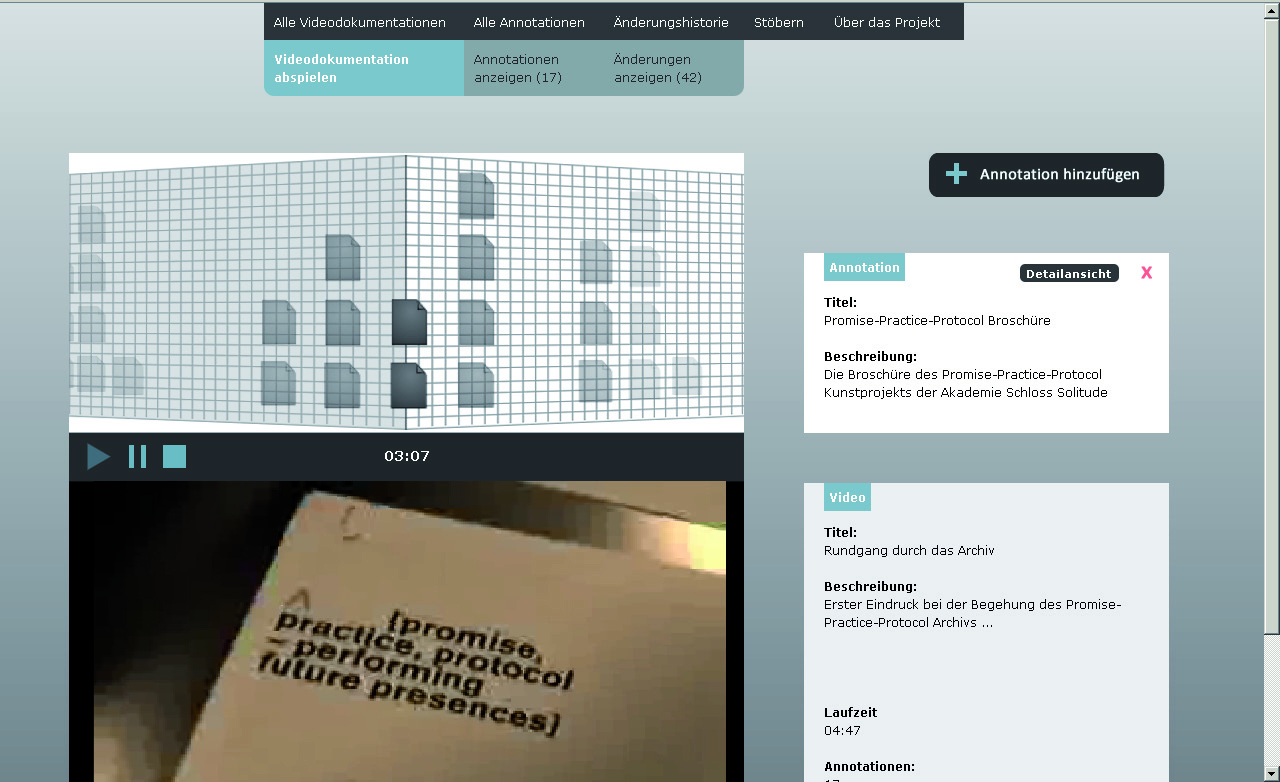 refer Online-Recommendation System
refer is an online-recommendation system based on Linked Open Data and Semantic Web Technologies. It aims to improve the user's and author's experience while curating and navigating in blogs, multimedia platforms, and archives. It thus helps broadcasters, journalists, archives and companies to combine traditional image, audio and video data automatically. refer was created by Tabea Tietz, Jörg Waitelonis, Joscha Jäger and Christian Hentschel in a one year innovation project funded by Media Innovation Center (MIZ) Babelsberg.
Resources
Responsibilities
Concept, Interface Design, Frontend Development
VHB Online Course eLearning Environment
eLearning environment on the subject of 'state liability law' (Staatshaftungsrecht) for the Virtual University of Bavaria (VHB), in cooperation with Bayreuth University.
Responsibilities
Concept, Interface Design, Frontend Development
Open Hypervideo Use Case: Flipped Classroom
Video Annotation Prototype for a Flipped Classroom Scenario presented at OCWC Global Conference 2014. Joint work with Olivier Aubert from the COCo Project at Université de Nantes.
The web application is dedicated to supporting video annotation activities. It aims at improving learner engagement, by having students be more active when watching videos by offering a progressive annotation process, first by only synchronizing predefined resources (provided by the teacher), then more freely, to accompany users in the practice of annotating videos. The synchronized resources, constituting annotations, produced by each student can then be centralized by the teacher for discussion and defining a group consensus of the best way to annotate the video.
Resources
Live Demo
Paper
Slides
Blogpost @ COCo Blog

Responsibilities
Concept, Interface Design, Frontend Development (HTML, JS, CSS)
Technical Demonstrators CeBIT 2013
Demo-Application of the Semantic Media Explorer (semex) technologies developed at Hasso Plattner Institute (HPI). The web application enables live-analysis of text and images by means of Named Entity Recognition (NER), Visual Concept Detection (VCD) and Optical Character Recognition (OCR).
The interface aims at visualizing all required steps of each analysis process in a comprehensible way, by allowing the user to trigger each step manually. This application was exhibited at CeBIT 2013.
Resources
Research Group 'Semantic Technologies' at HPI
About the Semantic Media Explorer
Responsibilities
Concept, Interface Design, Frontend Development (HTML, JS, CSS, Apache Wicket Framework)
Open Hypervideo Use Case: Document Access
Open Hypervideo is about interpreting the organizational concept of web-based hypertext for a film environment. The theoretical background, as well as the general concept, are described in my Bachelor's Thesis. This prototype was designed and developed as a general prototype for the idea of open hypervideo. The annotated documents, as well as the film scenes stem from the premises of the Archives of the City of Bruxelles.
The project aims to re-visualize the document context within the archive, as well as the invisible connections in between archival records (the archival methodology). The overall idea is to use film fragments as organizational structure for the archive of annotated documents. First ideas for this project have emerged within several semesters of research and experiments within the fields of interactive film and archives under the supervision of Prof. Mario Doulis (Merz Akademie). The prototype is continously being improved and developed further in different follow-up projects (more info can be found at the Open Hypervideo Project Homepage).
Resources
Use Case Description
Bachelor's Thesis
Open Hypervideo Project
Archives de la Ville de Bruxelles
Project Page @ Merz Akademie
Reverse Remediation Project (german)

Responsibilities
Student Research on Hypervideo Interfaces & Document Management, Design of a general Information Architecture for Open Hypervideo, Interface Design, Implementation (HTML5, JS, CSS3, XML)
Semantic Media Explorer
Project mediaglobe - the digital archive
The cultural memory is storing an increasing amount of information and data. Yet, at present, only a negligible portion of these contents is searchable or available via digital channels. Taking media archives into the digital future, the mediaglobe project aims at providing digital availability and usability for the growing stock of audiovisual documents concerning German contemporary history. The Semantic Media Explorer combines the latest media analysis processes, such as automatic scene segmentation, intelligent character recognition, and the ability to recognize genres and faces in videos. The information extracted via the media analysis is correlated using semantic information so that users can identify new links and "rummage around" in the multimedia content.
mediaglobe has been promoted from 2009 - 2012 by the Federal Ministry of Economics and Technology within the framework of the research programme »THESEUS – New Technologies for the Internet of Services«.
Resources
About the Semantic Media Explorer
mediaglobe - Project Homepage (german)
About THESEUS

Responsibilities
Research on User Interfaces & Interaction Paradigms for Semantic Video Search Engines, Conception, Prototyping, Interface Design, Frontend-Development (HTML, JS, CSS, GWT-Framework)
Video-based Archive
"remediate" Research Project
The video-based archive was created within a course by Prof. Mario Doulis. During the course I developed the first ideas for follow-up projects that dealt with annotated film. The basic concept is to use interactive videos as an interface to a document archive. In the Webinterface, documents are visualized in something one could describe as a timebased "virtual bookshelf". Technically the project was implemented with PHP and MySQL, with an Adobe Flex Application as the frontend.
Resources
Responsibilities
Student Research on filmic forms of archive access, Conception, Interface Design, Implementation (HTML, JS, CSS, PHP, MySQL, Flex)