In the last months we prepared what was going to be the second edition of the successful international "Workshop on Interactive Content Consumption" (WSICC) held last year at EuroITV in Como (Italy). This year's WSICC was part of the ACM TVX Conference on Interactive Experiences for Television and Online Video in Newcastle upon Tyne, UK. All papers and more info can be found at the workshop website.
We kicked off with a short welcome session and an introduction of each participant with three keywords to communicate interest, research focus and affiliations. The group turned out to be a very good mix of academic and corporate researchers, including a team from Samsung Smart TV UX Center in Korea.
---
Keynote
After the introduction part (and the last-minute recovery of slides from a damaged laptop) it was time for Marian Ursu's (University of York) keynote on "Intelligent Video Interaction":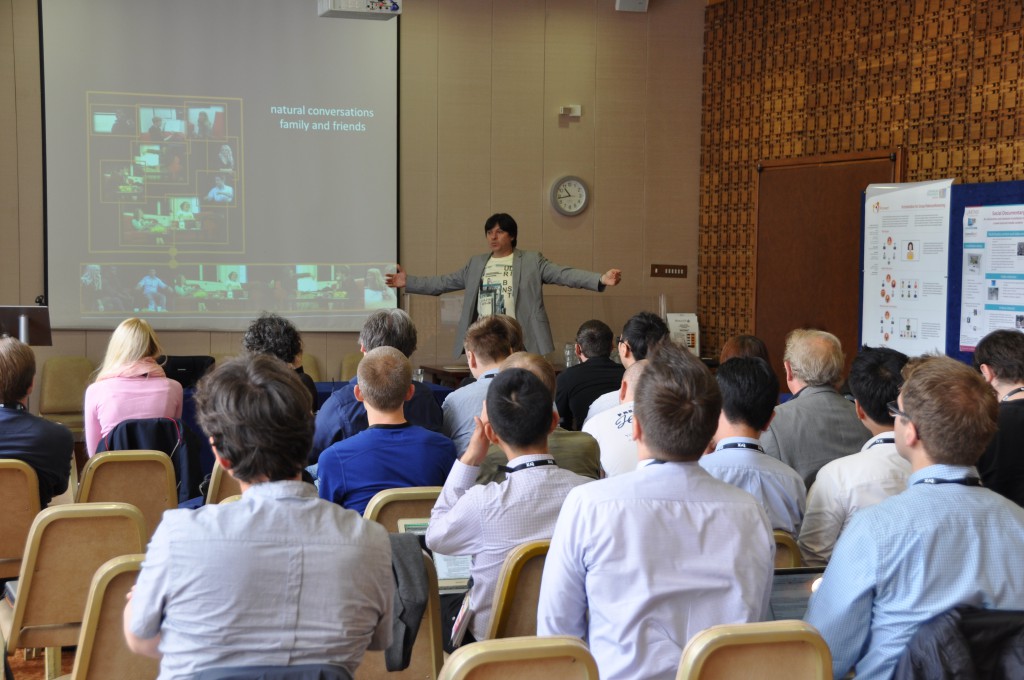 Marian's keynote was an inspiring reminder of the fact that even the smartest video technology appears pretty helpless without well crafted narratives. The talk provided a well-reflected view on the field in between "handcrafted" artistic works and semi-automated workflows & technology that supports broadcasters in carrying out large-scale interactive video projects. Marian also made a good point in presenting narratives as architectures with (at least in parts) definable rules, structures and forms. Because in the end it is the underlying structure that allows dynamic adjustments and refinements of filmic representations based on user interaction (or non-interaction).
The keynote was a perfect basis for all planned und unplanned discussions throughout the day, not only because of its contents but also in large parts due to Marian's refreshing and motivating way to communicate them.
---
Posters, Demos, Talks & Fishbowl Discussions
To start the poster / demo session, every author then had 1 minute with 1 slide to explain the basic concept of the submission. The posters and demos lead to interesting and vibrant discussions, which could only be stopped by jumping on a chair and shouting the next session announcement several times through the microphone.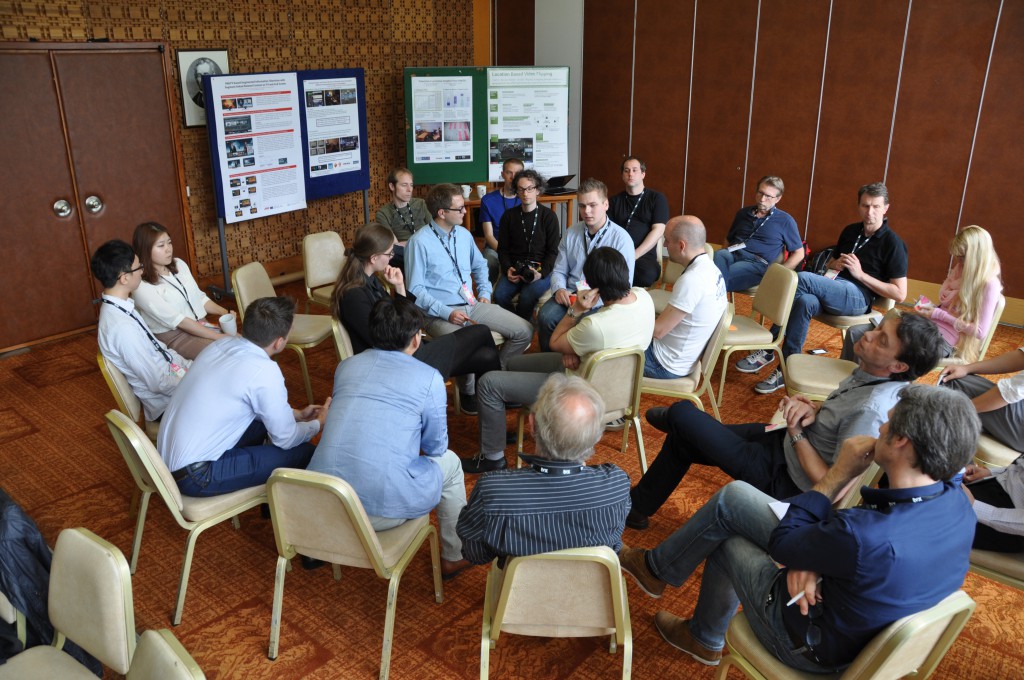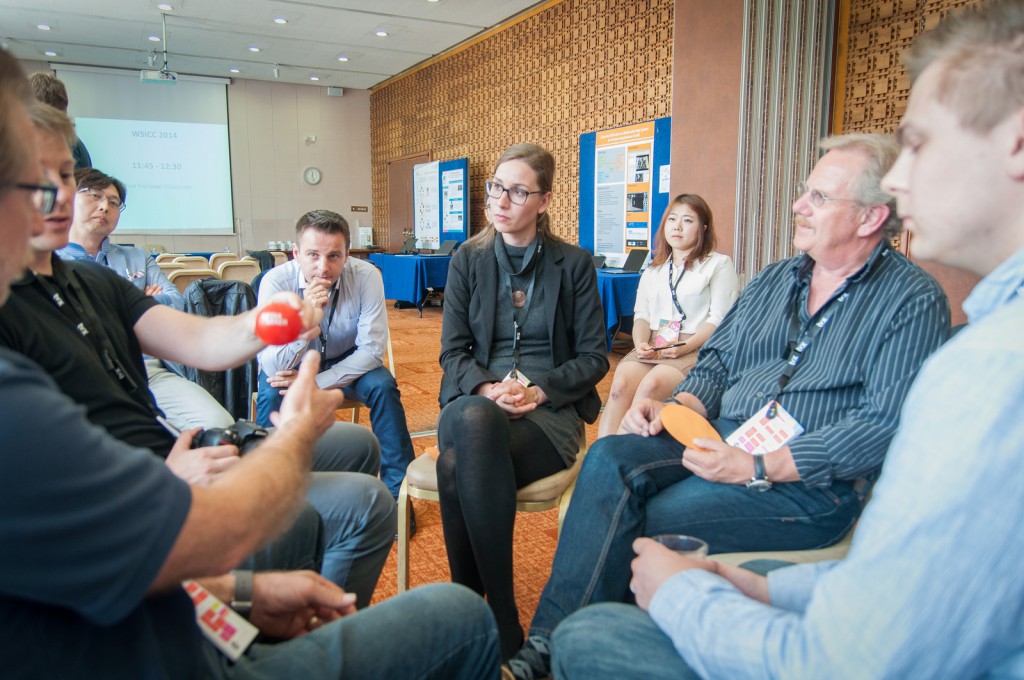 The following session was the first of two fishbowl discussions, an interactive discussion format that proved to be very successful and stimulating last year. While we were discussing forms of interactive content consumption from several perspectives, we took notes on a mind map to be able to evaluate the findings, questions and solutions after the workshop.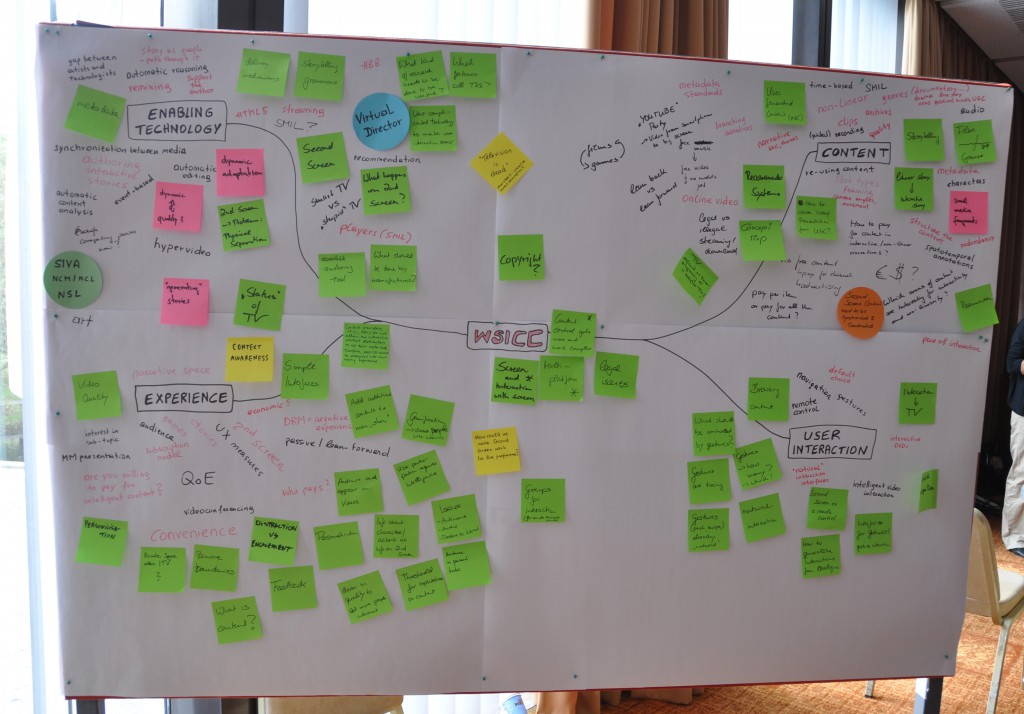 After the lunch break we heard two interesting research paper based talks by Britta Meixner from University of Passau and John Dowell from University College London. You can download the papers at our workshop website.
The second fishbowl discussion merged seamlessly into our closing session, where the Best Paper Award was given to Jeroen Vanattenhoven, David Geerts and Dirk De Grooff for the paper entitled "Television Experience Insights from HbbTV". We finished the day with a glass of good whisky that was originally intended as a gift for Marian but somehow made its way into the glasses of everyone else.
Thanks for all your input, engagement, the good submissions and the productive atmosphere during WSICC 2014! We will take some time to analyze and evaluate the notes we took and then find a suitable form of publication. In the next days, we will also put links to photos and other resources on the workshop website. Stay tuned for updates!
Photos by Rene Kaiser & Jeroen Vanattenhoven (Flickr)